No hack these days would be complete without the inclusion of a mint tin (although usually as a case); so we are going to build a capacitor with two tins, and compare it's measured value against it's calculated value.
Any two flat bits of metal would do, but I had two of these tins to hand, so that's what I used.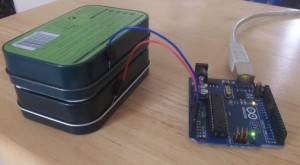 The two "plates" of the capacitor need to be spaced apart – I chose 3mm – which I did with four small blobs of blu tack in each corner and then squashed it down until I had a fairly even 3mm spacing. I then jammed the wires into the edge of the tin, making sure they made a reasonable contact, and plugged the other ends into the Arduino. On the serial monitor I got the following reading: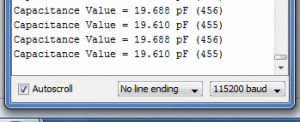 About 19.6pF. Next, to calculate what it should be. The formula for a capacitor is:

Our tin is about 58mm x 93mm, which gives us an area of 0.005394 m2. The distance is 0.003 m. ε0 is about 8.854×10-12. If we put this into the formula above, this gives us a capacitance of about 15.9pF.
Taking into account stray capacitance and inaccuracies in our measurements, this is close enough to the 19.6pF that we measured.
I reduced the air gap to about 1mm and the measured value went up to about 45pF – which again is what we would expect.
If you put different materials between the plates the capacitance will be higher – paper for instance has a relative permittivity of 3.85 (see wikipedia).